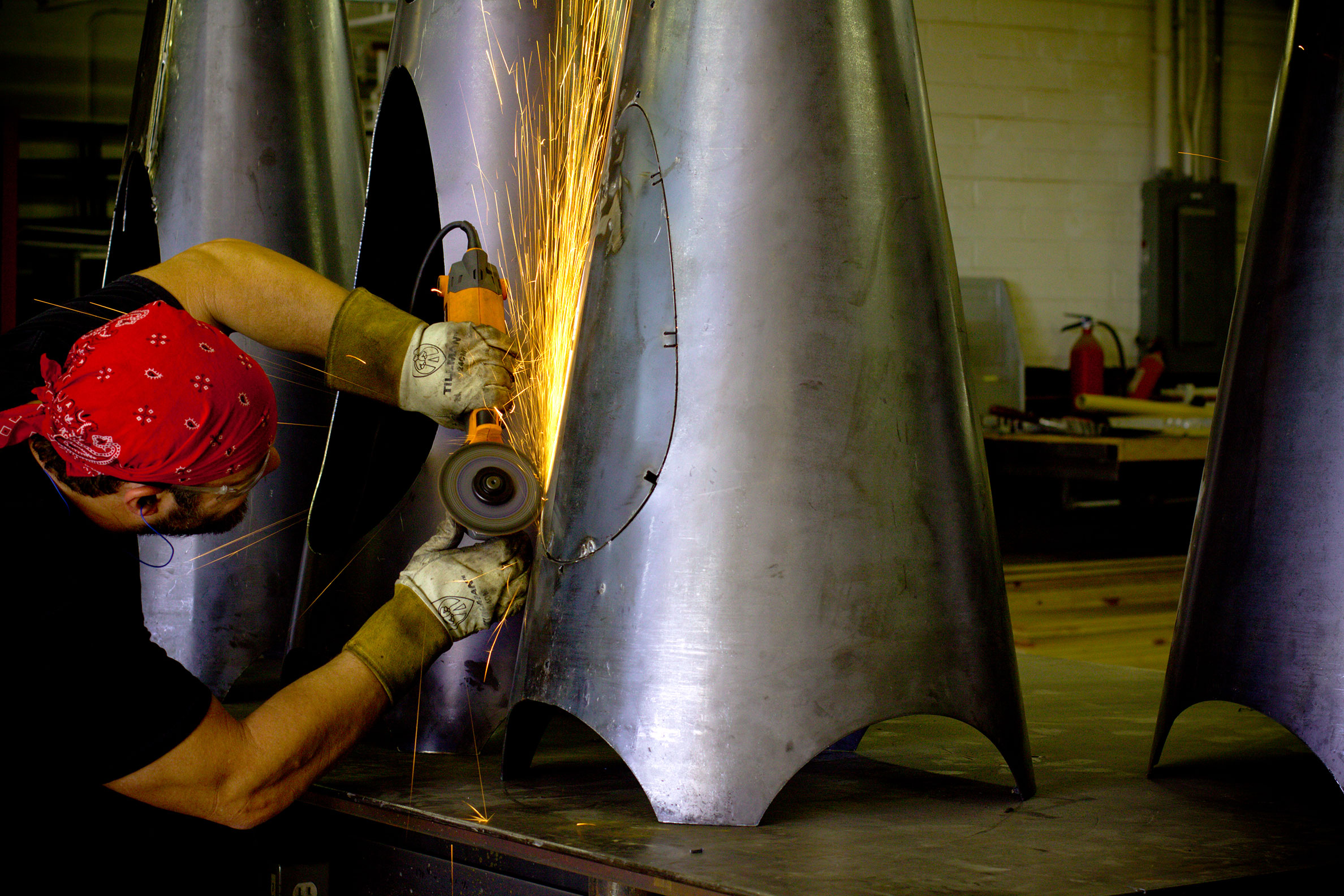 A COMPANY BUILT ON
A PASSION FOR DESIGN
Modfire is the dream of two friends from Indiana, Brandon Williams and Marty Young.
Although they grew up no more than 20 miles apart, Brandon and Marty met for the first time when they were living in the Bucktown neighborhood of Chicago in 2005. They bonded over their similar histories growing up in small town Indiana and shared dreams of building a business focused on beautiful design.
In those early days, Brandon worked on custom steel installations in upscale Chicago loft spaces and north side restaurants. He founded a steel studio in Bucktown and turned out amazing one of a kind works. Marty spent his days consulting – advising other people on how to build and grow their businesses – and evenings creating steel furniture in Brandon's studio.
Lighting A Wildfire
Six years and several moves later their original dreams crystallized around a modern fireplace design and a warehouse studio in Phoenix, AZ. It was there that Brandon's design and Marty's business model joined to form Modfire.
That Phoenix studio was the incubator for the original Urbanfire prototypes – a blend of Chicago urban loft style and Phoenix mid-century architecture. Each piece was hand finished by Brandon. Today, several steel artisans work alongside Brandon and Marty fabricating every piece created by Modfire in that same studio.
Although the company has grown in size and now has several products in production (and many more on their design board), it remains a very hands-on labor of love for both partners. Brandon still touches every piece that emerges from the studio and Marty is still directly involved in retailer, vendor and customer interactions.
Says Brandon, "I feel a connection with each piece that we make. There is great joy in releasing something new into the world – and no matter how many we make, there is still a little sadness watching each one go."
"We never want to get to a point where we aren't in touch – both figuratively and literally – with the things that made us want to do this in the first place", adds Marty. "The enjoyment of watching a customer experience our designs in person never gets old for me."
Brandon Williams is a custom metal artist in downtown Phoenix AZ.
He started his journey in steel after taking a welding class that left him exhilarated and inspired. "I had been making small interior home accessories for 6 years and had just lost my passion as an artist. So while the business was successful, it became a never ending, mindless repetition."
Metalworking however provided Brandon with a steep learning curve. It's more about finding your path and enjoying the evolution. You will alway be challenged to find a better process, to put things together in uncommon ways or get the details just so. If artists came with tag lines, his would be "I like to grind".
On The Craft
"Simply put, it's difficult work, but this is what we do to make beautiful, compelling pieces…Weld, grind, sweat, repeat, I realize metalwork isn't for everyone, but I couldn't imagine doing anything else and my clients are thrilled with the end result."
On The Artistic Process
"I have a soft spot for beautiful things. I love order. Clean lines and great design compel me. I create with a minimalist perspective that has been shaped by years of distillation. The most useful lesson of my life was learning how to simplify. My execution, however, is always the opposite: thunderous, messy and highly charged. A cacophony of sounds and implements of creation being put to hard use. The howl of a grinder and sparks of steel start to fly. Talk about satisfying… It's that strange juxtaposition I find so interesting in what I do as an artist."
"At the drawing table I'm a designer with great ideas and grand concepts that speak to me and fulfill my need to bring beauty onto this earth. But, when I'm in the shop, I'm a craftsman with metal in every pore of my being and the guy who regularly gets mistaken for homeless and offered change or a hot meal (true story)."